Salmon is a healthy source of Omega-3 fatty acids and a preferred fish for many families. Season it with cajun for that little spicy kick and alot of flavour.
Cuisine : American Course : Main Skill Level : Novice
Prep : 10 mins Cook : 25 mins Ready in : 35 mins Serves : 2

---
INGREDIENTS:
2 Boneless Salmon Steaks (skin on, about 300g each)
1 tbsp Lemon Juice
1 tsp McCormick Cracked Black Pepper
1 tsp McCormick Onion Powder
1 tsp McCormick Perfect Pinch® Cajun Seasoning
1 tsp McCormick Paprika
1 tsp McCormick Rosemary Leaves (or Sprigs of fresh Rosemary)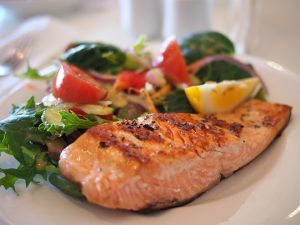 DIRECTIONS:
Drizzle lemon juice onto each salmon steak. Season generously with cracked black pepper, onion powder and Cajun seasoning.
Sprinkle paprika for a nice color when baking. Then place sprigs of fresh Rosemary on salmon and lay it skin side down on a sheet of baking paper.
Bake at 180°C hot oven for about 20 minutes, or until cooked through. Serve hot with a slice of lemon and tomato slices and roasted veggies on the side.
**Tip: Eating more salmon is good for you: salmon is a good source of omega-3 fats, which are associated with better heart health and healthy skin.