Gazpacho recipes can vary greatly in terms of ingredient composition, texture and viscosity. Have a healthier and refreshing version using fresh tomatoes, watermelon and lemongrass!
Cuisine : Fusion Course : Appetizer Skill Level : Novice
Prep : 30 mins Cook : 0 mins Ready in : 30 mins Serves : 4

---
INGREDIENTS:
15 Thai Asparagus (blanched)
1 Avocado (ripe)
1 Lime Juice
100g Yellow Cocktail Tomatoes
100g Red Cocktail Tomatoes
½ bunch of Spring Onions
1 tsp Capers
2 sprigs of Thai Basil
2 sprigs of Mint
3 sprigs of Coriander
3 tbsp Olive Oil
2 tbsp White Wine or Mango Vinegar
Salt and Pepper
Garnish
50g Radish Sprouts
50ml Tomato/Lemongrass Gazpacho
Tomato and Watermelon Gazpacho with Lemongrass
3-4 Medium Ripe Tomatoes (or ½ can of chopped tomatoes)
1 tbsp Tomato Puree
1 Red Chilli (medium hot)
1 Small Red Bell Pepper
200g Watermelon
1 stalk of Lemongrass (finely chopped)
10cl Chicken Stock
White Balsamic Vinegar
Salt and Pepper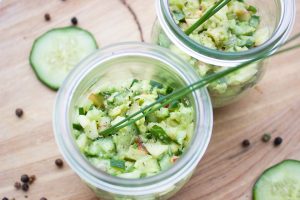 DIRECTIONS:
Peel the avocado, dice flesh in 1 x 1 cm cubes and mix immediately with limejuice to prevent oxidation.
Chop the blanched asparagus. Cut the cocktail tomatoes in 8, chop the spring onions, capers and herbs finely.
Mix all ingredients in a bowl; season to taste with salt, pepper, vinegar and olive oil.


To Serve

Place a small ring cutter in the middle of a shallow serving bowl. Spoon some tartar mix into the ring and press with a spoon so it will not fall apart once you remove the ring.

Place the Tomato/ Lemongrass Gazpacho into a squirt bottle, and then squeeze around Thai asparagus tartar.

Garnish with radish sprouts and asparagus or chives.

To Blanch Green Asparagus

Wash and cut the lower part of the stem if necessary. In a medium size pot, bring water to a boil. Add 1 tablespoon of salt to 1 l of water. Prepare a bowl with ice water next to the pot.

Cook asparagus for 1 minute, until bright green and still crunchy. Take them out with a slotted spoon and plunge them in prepared bowl with ice water, to stop cooking process immediately. Drain and use as indicated in recipe.

To Prepare Tomato and Watermelon Gazpacho with Lemongrass

Remove the skin and dice the watermelon flesh.

Wash the tomatoes, bell pepper, and red chilli and remove the stem and seeds. Dice flesh in 2×2 cubes and combine with watermelon, chicken stock, tomato puree, chopped lemongrass, white balsamic vinegar and Tabasco in a blender.

Blend for 2-3 minutes or until very smooth, then strain through a sieve, pressing with a soup ladle.

Season to taste with salt, pepper, and then keep refrigerated in a squirt bottle.