Cappuccino with Black Truffle Brunoise and White Truffle Oil
by Susanne Despture

The aroma of a freshly brewed Cappuccino is irresistible to many. Imagine adding truffle oil which gives a smooth sensation and you wouldn't want to wait to take a sip! Besides learning milk steaming and foaming techniques, you will also be exposed to basic knife skills which will help you make finely-sliced black truffle brunoise for an additional flavour.
Cuisine : European Course : Dessert Skill Level : Novice
Prep : 15 mins Cook : 30 mins Ready in : 45 mins Serves : 8

---
INGREDIENTS:
300g White Beans (soaked overnight in cold water in fridge)
300g Chicken Stock
1 Small Onion (peeled and cut in two)
1 Small Carrot (peeled and cut in two)
100ml Truffle Juice
200ml Cream
90g Butter
10g Chopped Truffles
100ml Cream (whipped)
Salt and Pepper
Red Wine Vinegar
Fleur de Sel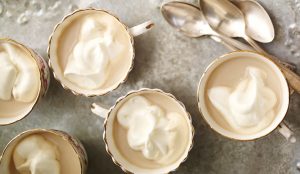 DIRECTIONS:
Place soaked beans in a pot with carrot & onion. Cover with chicken stock and cook until well done. Set 1 tbsp of cooked beans aside for garnish.
Remove onion and carrot from beans. Puree beans in a blender with chicken stock and strain through a fine meshed sieve.
Heat the beans puree slowly and add truffle juice & cream – season to taste with salt and pepper and some drops of red wine vinegar.
Just before serving, bring bean soup to a boil and add the butter – stir until it melts. Add the whipped cream and mix with bean soup, so it gets a "cappuccino" texture: light and airy!
Mix the remaining beans with the chopped truffles – add a little bit in each soup bowl, then top with foamed cream and garnish with sliced truffles. Serve immediately.