This dish pairs succulent portobello mushrooms with a lusciously creamy crab filling. If rich flavours are your thing, you'll love these.
Cuisine : European Course : Appetizer Skill Level : Novice
Prep : 15 mins Cook : 60 mins Ready in : 75 mins Serves : 2

---
INGREDIENTS:
6 Button or Baby portobello mushrooms
¼ Medium onion
1 cloves Garlic
2 tablespoons Unsalted butter
¼ Jar crab meat
1/8 teaspoon Salt
1/8 teaspoon Pepper
4 ounces Cream cheese, room temperature
1 Egg yolk
¼ cup Parmesan cheese, shredded
½ Lemon, cut into wedges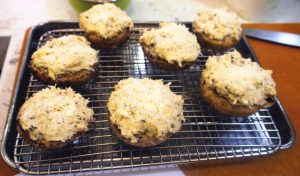 DIRECTIONS:
Clean dirt and debris from mushrooms by wiping them with a damp paper towel or rinsing them under running water in a strainer. Let them dry for a few minutes, and then pull off the mushroom stems from their caps (these pop right off). Set the mushroom caps aside.
Mince the mushroom stems, onion, and garlic as finely as possible without turning them into mush.
Place the butter in the frying pan on the stove over high heat. When the butter is melted and hot, dump in all your minced veggies and cook them for about 10 to 12 minutes, or until the liquid from the mushrooms is mostly evaporated. Stir occasionally.
Add the crab meat, salt and pepper to the pan, and cook for a minute or two, just enough to heat the crab through. When it's good to go, scrape the whole mixture into a bowl and let it cool for at least 20 minutes, or until it's cool to the touch.
Next, add in the cream cheese, egg yolk and half of the Parmesan cheese. Mix it thoroughlyt. If you are making the filling a day in advance, cover the bowl with plastic wrap and chill in the refrigerator. For those forging ahead, preheat the oven to 220 degrees C.
Using a tablespoon, scoop a little bit of the crab mixture from the bowl and pack it down gently into a mushroom cap. Place the stuffed mushroom on your baking pan. You want a well-rounded mound of crab and cream cheese goodness on top. Repeat with the rest of the mushroom caps, then sprinkle on the remaining Parmesan cheese for a topping.
Bake the stuffed mushrooms for 25 minutes. You'll know they're ready when the Parmesan cheese on top is a light golden brown. Remove the pan(s) from the oven.

Before serving, cut the lemon into wedges and sprinkle a few drops of lemon juice onto each mushroom cap. Or, you can serve them on a tray with the lemon wedges and let your friends sprinkle on the lemon juice themselves. Enjoy!