Make the softest and fluffiest homemade cinnamon roll coat with pecan glaze with Chef Philia's recipe!
Cuisine : Baking  Course : Dessert Skill Level : Novice
Prep : 90 mins Cook : 12-15 mins Ready in : 110 mins  Serves : 6-8 Servings
---
INGREDIENTS
500g Bread Flour
35g Sugar
A pinch of Salt
11g Dry Active Yeast
A pinch of Sugar + 40g Water
1 Egg
90g Unsalted Butter
235g Water
Pecan Glaze

110g Unsalted Butter
180g Sugar
100g Roasted Nuts of Your Choice

Cinnamon Sugar

100g Sugar
2 tsp Cinnamon Powder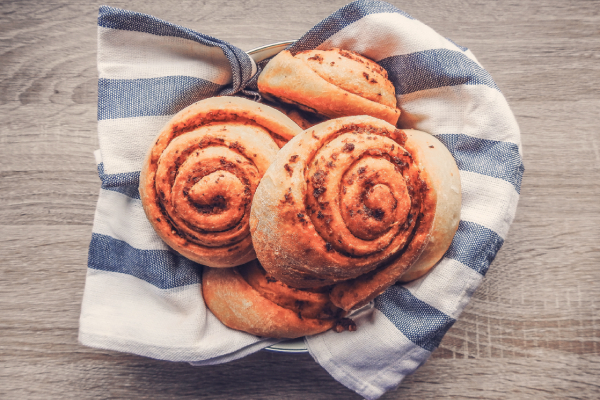 DIRECTIONS FOR CINNAMON ROLL
Combine yeast, a pinch of sugar and 40g water together and leave it aside for 10 minutes.
Combine bread flour and 35g sugar together with a pinch of salt and mix well.
Make a well in the flour and add in the egg , water and yeast mixture.
Mix the mixture and using a bread hook, mix until a dough is form and well combined.
Add in unsalted butter and mix well into the dough for another 10 minutes.
Allow the dough to proof for 25 minutes or doubled its size.
Once the dough doubled its size, using a roller, roll it as thin and spread the caramelised pecan mixture on it evenly and sprinkle more cinnamon sugar.
Roll the dough tightly and cut into equal size and proof for another 30 minutes until it doubled the size.
Bake the rolls at 190 degree Celsius, fan mode for 12 to 15 minutes until it's golden brown.
The rolls is best serve warm.
DIRECTIONS FOR PECAN GLAZE
Cook and combine all ingredients together until sugar are melted.
Add in roasted pecan and stir well.
Leave it aside to cool before using.
DIRECTIONS FOR CINNAMON SUGAR
Mix 100g sugar with 2 tsp of good quality cinnamon powder.