Here's how to make gooey, cheesy, garlicky pull-apart bread, one step at a time! Addictively buttery and cheesy with each piece and bursting with fresh herb and garlic flavours!
Potentially the most popular of all local crab dishes, the chili crab is popular for its flavorful sweet, salty, chili-hot tomato sauce. Many like to use the mantous to mop up the gravy! Try this recipe to satisfy that chili crab craving without buying the entire crab! 
Cuisine : Asian Course : Condiment Skill Level : Novice
Prep : 10 mins Cook : 10 mins Ready in : 20 mins Serves : 4

---
INGREDIENTS:
Spice Paste
100g Shallots
20g Garlic
40g Lemongrass
40g Galangal
20g Ginger
2g Turmeric Powder
20g Belachan
30g Buah Keras
Sauce
4 tbsp Extra Oil
30g Dried Shrimps (Hay Bee), finely ground
40g Spice Paste
1 tbsp Chili Paste
1 tbsp Fermented Bean Paste
200ml Ketchup
500ml Water
2 tbsp Corn Starch, mixed with 4-5 tbsp water
Assembly
8 Eggs
500g Fresh Crabmeat
Coriander leaves for garnish
8pcs Mantou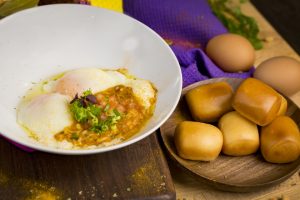 DIRECTIONS:
In a food processor, place all ingredients for spice paste in sequence and blend. Process until you obtain a fine paste.
Place eggs in sous vide machine and cook at 64°C for an hour.
Heat extra oil, saute dried shrimps, fermented bean paste and spice paste together. Add chili paste. Cook briefly.
Pour in ketchup and water. Bring to boil and thicken sauce slightly with corn starch solution.
Add the crabmeat and bring to simmer. Serve hot with sous vide eggs, diced tomatoes, fresh coriander leaves and mantou buns.