Enjoy this classic Chicken Pot Pie and learn how to make the pie crust and creamy chicken filling from scratch with Chef Trish Yee's recipe!
Cuisine : European Course : Appetizer Skill Level : Novice
Prep : 30 mins Cook : 55 mins Ready in : 130 mins Serves : 2

---
INGREDIENTS:
110g Plain flour
1/4 tsp Salt
45g Unsalted butter, chilled and cubed
75g Vegetable shortening, chilled
50-60ml Ice water
2 tbsp Unsalted butter
1/2 medium Yellow onion, diced small
1-2 Potatoes, diced small
1 Carrot, diced small
2 Minced Garlic Cloves
2 tbsp Flour
200ml Chicken broth
Frozen peas & corn
Coarse salt and ground pepper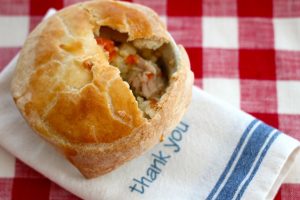 DIRECTIONS:
Mix the flour and salt together in a large bowl. Add the butter and shortening.
Using two forks, cut the butter and shortening into the mixture until it resembles coarse meal or you may use food processor to do the work.
Drizzle the cold water in, 1 Tablespoon at a time, and stir with a rubber spatula or wooden spoon after every Tablespoon added. Do not add any more water than you need to. Stop adding water when the dough begins to form large clumps.
Transfer the pie dough to a floured work surface. The dough should come together easily and should not feel overly sticky. Using floured hands, fold the dough into itself until the flour is fully incorporated into the fats. Form it into a ball. Divide dough in half. Wrap each tightly in plastic wrap. Refrigerate for at least 30mins.
Preheat oven to 180°. Place potatoes and carrots in a large saucepan; add water to cover. Bring to a boil. Reduce heat; cook, covered, 8-10 minutes or until vegetables are crisp-tender; drain.
In a large skillet, heat butter over medium-high heat. Add onion; cook and stir until tender. Stir in flour and seasonings until blended. Gradually stir in broth and milk. Bring to a boil, stirring constantly; cook and stir 2 minutes or until thickened. Stir in chicken, peas, corn and potato mixture; remove from heat.
Unroll a pastry sheet into each of two 9-in. pie plates; trim even with rims. Add chicken mixture. Unroll remaining pastry; place over filling. Trim, seal and flute edges. Cut slits in tops.
Bake 35-40 minutes or until crust is lightly browned. Let stand 15 minutes before cutting.