A classic nonya dish which brings back a sense of nostalgia. The soybean paste is braised with pork and infused with sautéed shallots, garlic and cinnamon. Best to serve with steam rice.
Cuisine : Asian Course : Main Skill Level : Novice
Prep : 10 mins Cook : 45 mins Ready in : 55 mins Serves : 2

---
INGREDIENTS:
3 tbsp Oil
6 pieces of Whole Shallots
2 cloves of Garlic (finely chopped)
1 piece of Cinnamon Stick
½ tbsp Coriander Powder
2 tbsp Fermented Soy Bean Paste (Taucheo)
350g Pork Shoulder/Belly (cut into 3cm cubes)
8 pieces of Dried Shitake (Chinese) Mushrooms (soaked, stalks removed)
100g Winter Bamboo Shoots or Fresh Bamboo Shoots (sliced)
1 tbsp Thick Dark Soya Sauce
1 litre of Water
½ tsp Salt (to taste)
1 tsp Sugar
Garnish
Sliced Green Chillies
Coriander Leaves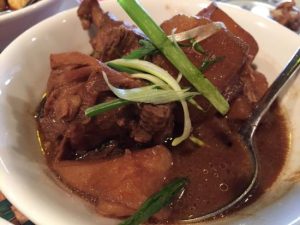 DIRECTIONS:
Heat oil, sauté whole shallots, garlic and cinnamon stick until fragrant. Add fermented soya bean paste and cook for one minute.
Add pork cubes, mushrooms and bamboo shoots to the pot, pour in dark soya sauce and water. Bring to boil and simmer for half an hour to 40 minutes until pork is tender.
Season with salt and sugar to taste and transfer stew to a serving bowl. Garnish stew with green chilies and coriander leaves and serve with steamed rice.