There are countless of ways to cook a chicken but a Roasted Lemon & Rosemary marinated Spring Chicken dish must surely be one of the tastiest. Learn the traditional French way to make fantastically flavoured spring chicken with kaffir lime leaf, baby ovan potatoes and a garden vegetable filling.
Cuisine : European Course : Main Skill Level : Novice
Prep : 80 mins Cook : 55 mins Ready in : 135 mins Serves : 6

---
INGREDIENTS:
2 Spring Chicken
1 Kaffir Lime (finely grated)
1 Lime (juice)
2 cloves of Garlic (finely chopped)
2-3 sprigs of Rosemary
10-12 Double Kaffir-Lime Leaves (combava)
3 tbsp Olive Oil
6 Black Peppercorns (coarsely chopped)
Young Potatoes
600g Mini Potatoes
1 Garlic Bulb
Olive Oil
Rosemary
Fine Sea Salt (fleur de sel)
Spring Vegetables
100g Baby Carrots
50g Snow Peas
1 Yellow Zucchini
1 Broccoli (florets)
Salt and Butter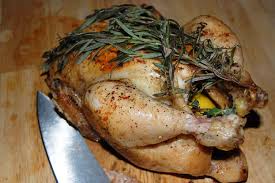 DIRECTIONS:
Preheat oven to 210°C.
Mix all ingredients for the marinade, then rub each part and the inside of the spring chicken with the mixture. Stuff the chicken with some sprigs of rosemary and the kaffir lime leaves. Leave to marinate for an hour or more.
Put them (lying on their side) in an oven-safe dish, with cloves of garlic and washed (but not peeled) young potatoes around it. Drizzle with olive oil, fine sea salt and rosemary.
Put the oven-safe dish in the oven and cook. After 15 minutes, take the oven-safe dish out, turn the cockerels on their other side and cook for another 10 to 15 minutes.
Turn down the temperature to 160°C. and cook for 10 more minutes on their back and 5 more minutes on their belly.
Switch off the oven and allow to rest 10 minutes.
To check that the chicken are thoroughly cooked: with a small cutting knife, pierce one leg at the joint. The juices should run clear. Add salt and pepper to taste.


For Spring Vegetables

Wash all the vegetables and blanch them separately in boiling salt water. Keep them crunchy and cool them immediately in ice water to keep their genuine colour.

Before serving, heat up the vegetable in a frying pan with a knob of butter.

To finish, carve the spring chicken and serve with the potatoes and mixed vegetables.