The hunt for the perfect butter cake recipe is over! Try this Oreo Yogurt Butter Cake by Chef Julie that is moist and highly enjoyable.
Cuisine : Baking Course : Dessert Skill Level : Novice
Prep : 15 mins Cook : 50 mins Ready in : 65 mins Serves : 6-8

---
INGREDIENTS:
220 gm Plain Flour
11/2 teasp Baking Powder
1/2 teasp Baking Soda
1/2 teasp Salt
100 gm Salted Butter
170 gm Fine Sugar
2 no Egg
240 ml Non-fat Yogurt
1 teasp Vanilla Paste
60 gm Oreo Cookies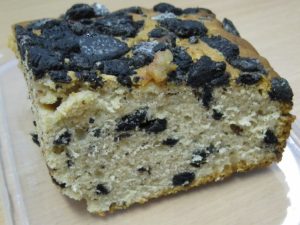 DIRECTIONS:
Preheat oven 180°C.
Line 2 x 7"loaf tin or 8" round pan.3
Sift all the flours (Group 1).
Cream butter and sugar till light.
Add the beaten eggs slowly
Fold in gently 1/3 flour until combined. Followed by ½ portion yogurt. Repeat again and finished off with the flour.
Lastly, add in the crushed Oreo cookies.
Pour batter into greased pan and arrange Oreo on top.
Bake for 40-50mins for 8" round pan or 30mins for the loaf tin.