Learn to bake this fragrant and soft Charcoal Cheese Bread by Chef Charlynn that is wholesome and beneficial to health!
Cuisine : Baking Course : Appetiser Skill Level : Novice
Prep : 270 mins Cook : 25 mins Ready in : 295 mins Serves : 4

---
INGREDIENTS:
50g Water (Poolish Pre-Ferment)
50g Plain Flour (Poolish Pre-Ferment)
Pinch of Yeast (Poolish Pre-Ferment)
200g Bread Flour (Main Dough)
50g Whole Wheat Flour (Main Dough)
3g Charcoal Powder (Main Dough)
150g Water (Main Dough)
100g Poolish (Main Dough)
5g Salt (Main Dough)
2g Yeast (Main Dough)
40g Cheese (Main Dough)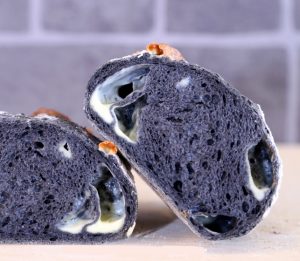 DIRECTIONS:
Mix all ingredients under Poolish Pre-Ferment together and leave at room temperature for 2-3hrs before putting in the chiller to rest.
For the main dough, follow Steps 3 to 11.
Mix all the ingredients together in a mixing bowl and knead on low speed for 4 minutes.
Turn to a higher speed and knead for another 5-8 minutes till gluten is developed.
Gradually add in cheese at a low speed.
Rest dough in an oiled container for 45 minutes.
Do a stretch and fold.
Rest for 30 minutes.
Cut dough and pre shape.
Final shape dough and let proof.
Bake at 210C for 25 minutes.