Nothing beats a classic lasagne! Savour every bite of this meaty cheesy lasagne that is perfect for any meal.
Cuisine : European Course : Main Skill Level : Novice
Prep : 20 mins Cook : 60 mins
Ready in : 80 mins Serves : 4
---
INGREDIENTS:
Ingredients for Ragu Sauce
Olive oil
2 tbsp Yellow onion (diced)
100g Beef (minced)
50 Fatty minced pork
50ml Red wine
2 tbsp Diced tomatoes
1 Bay leaf & thyme
1/2 cup Water
1/4 Beef cube
Ingredients for Bechamel sauce
2 tbsp butter.
2 tbsp flour.
1 1/4 cups milk, heated.
Salt
Freshly ground pepper
Mozzarella
Nutmeg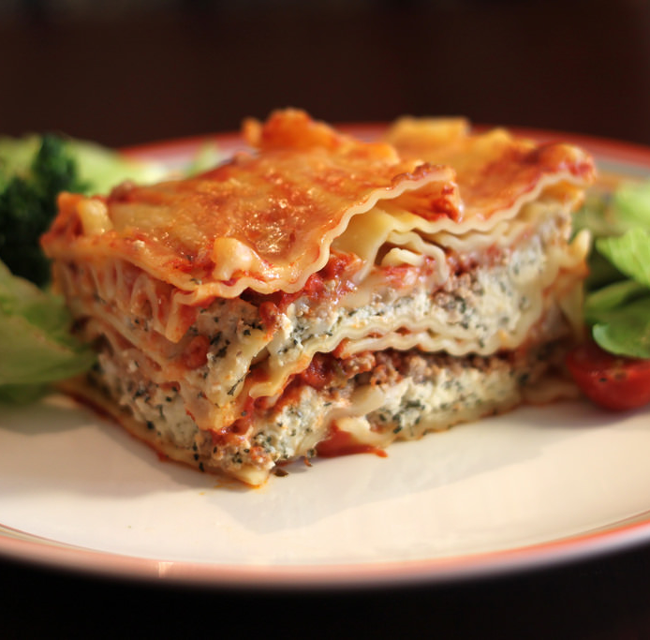 DIRECTIONS:
For the Ragu sauce, follow steps 2 to 6.
To a fry pan, add olive oil, and onions, and sliced bacon and cook for 5-7 min.
Add beef and pork mince and cook until fragrant.
Deglaze with red wine.
Put diced tomatoes, beef cube and water and Bay leaf.
Simmer for 15 minutes.
For Bechamel sauce, follow steps 8 to 11.
Fry flour and butter until medium yellow.
Add milk.
Season with nutmeg, salt & pepper.
Remove from heat and add mozzarella.
Layering of lasagna.
Beef Ragu > Pasta sheet > Béchamel sauce.
Repeat 2 times.
Top with Parmesan cheese.
Bake for 30min, rest for 15 min before cutting.