The perfect breakfast for Singaporeans! It's easy and simple to do.
Cuisine : Asian Course : Appertizer Skill Level : Novice
Prep : 15 mins Cook : 5 mins Ready in : 20 mins Serves : 1

---
INGREDIENTS:
800ml of Water
2 eggs
2 slices of bread
Sunny Meadow Margarine
Kaya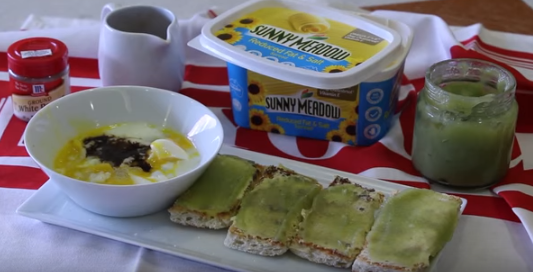 DIRECTIONS:
Boil 800ml of Water.
Once water boils, switch off the heat.
Place room temperature eggs in pot and cover the pot.
Slice away bread corners.
Slice bread into half.
Toast bread on hot pan for 2 minutes on each side.
Spread Sunny Meadow Margarine and kaya on toast.
Remove eggs from water after 5 minutes and crack the eggs open.
Season the eggs to your preference.
Dip toast in soft boil eggs and enjoy!