You won't be able to resist this comforting Mushroom and Bacon Baked Rice that is lip-smacking good.
Cuisine : European Course : Main Skill Level : Novice
Prep : 5 mins Cook : 75 mins
Ready in : 80 mins Serves : 2
---
INGREDIENTS:
Ingredients for the Rice
1) 1 tsp Butter
2) 30g Onion, chopped
3) 280g Jasmine Rice
4) 350ml Chicken Stock
Ingredients for the White Sauce
5) 300ml Milk
6) 100ml Cream
7) 2 tbsp Maggi Concentrated Chicken Stock
8) 2 tbsp Corn starch or potato starch
9) 4 tbsp Water
Other ingredients
10) 100g Streaky Bacon, diced
11) 100g Fresh Shiitake Mushrooms
12) 100g Mozzarella or Emmental Cheese
13) Parsley, chopped
14) 1 Tomato, diced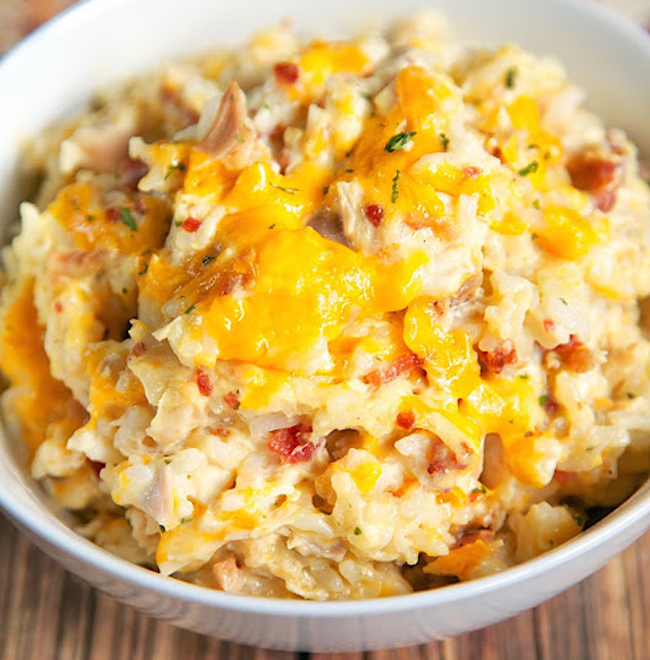 DIRECTIONS:
Wash rice and drain dry. Melt butter and saute onions till fragrant. Add the rice and pour in the chicken stock. Bring to boil and cook over slow fire for 15 minutes. Alternatively bake in a preheated oven at 180C for 40mins (20mins for metal trays). Allow rice to rest for 10 minutes before fluffing.
Combine milk and cream together. Bring to boil and add the concentrated chicken stock. Mix starch with water and thicken the sauce with it.
Heat oil and saute bacon until fat is rendered. Add the mushrooms and cook for two minutes.
Transfer cooked rice to a casserole. sprinkle the bacon and mushrooms over the rice. Spoon some of the white sauce over the rice and sprinkle with some grated cheese.
Bake rice in a preheated oven at 220C for 10-15mins. Sprinkle with chopped parsley and diced tomatoes before serving.