Bursting with vibrant flavours, this salad makes a fantastic meal, light yet still satisfying!
Cuisine : European Course : Appetizer Skill Level : Novice
Prep : 10 mins Cook : 5 mins Ready in : 15 mins Serves : 1

---
INGREDIENTS:
2 tbsp Balsamic Vinegar
6 tbsp Extra Virgin Olive Oil
1/2 tsp Sugar
1/4 tsp Coarse Ground Black Pepper
15 pcs Prawns
Salt
1 tbsp Butter
1 tsp Garlic
1/2 tsp Coarse Ground Black Pepper
1/4 tsp Paprika Powder
200 g Mixed Salad Leaves
8 nos Cherry Tomatoes, cut into half
4 tbsp Shaved Parmesan Cheese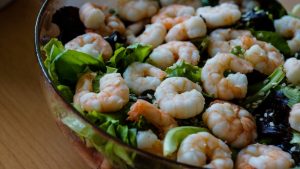 DIRECTIONS:
Place all ingredients for salad dressing together in a bowl and mix well with a whisk.
Season prawns with salt. Melt butter in a frying pan and sauté garlic till fragrant. Add prawns and cook for two minutes. Sprinkle on coarse ground pepper and paprika powder. Remove prawns from pan and set aside.
Toss the salad leaves with balsamic dressing. Arrange prawns on salad and sprinkle on parmesan cheese before serving.