Fluffy and moist, this buttery red velvet cupcake topped with tangy cream cheese frosting is simply magical.
Cuisine : Baking Course : Dessert Skill Level : Novice
Prep : 20  mins Cook : 45 mins Ready in : 65 mins Serves : 4-6

---
INGREDIENTS:
45 g Cake flour
1 g Baking soda
45 g Caster sugar
2 g Cocoa powder
5 g Salt
50 g Melted Butter
35 g Buttermilk
20 g Egg
5 g Red food coloring
5 g White vinegar
125 g Cream Cheese
35 g Icing Sugar (Sifted)
25 g Whipping Cream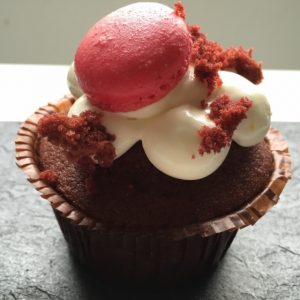 DIRECTIONS:
Pre heat the oven to 175°C.
Combine all dry ingredients (Cake flour, Baking Soda, Caster Sugar, Cocoa Powder, Salt) .
Combine buttermilk egg, red food coloring and white vinegar in a bowl.
Add the wet ingredients into the dry ingredients, followed by melted butter.
Stir and till combine.DO NOT OVERMIX!
Line the cupcake mould and fill each with 50gm of batter.
Bake for 15-20 mins depending on oven.
To make the Cream Cheese Frosting, combine Cream Cheese, Icing Sugar (Sifted) and Whipping Cream and whisk till light and fluffy.