Make this cute Rainbow Cake in a Jar from scratch with Chef Jehanne's recipe! It is simple-to-make and perfect as a gift.
Cuisine : Baking Course : Dessert Skill Level : Novice
Prep : 30 mins Cook : 15 mins Ready in : 45 mins Serves : 4

---
INGREDIENTS:
3 Large eggs
100 g Cake flour
1 tsp Baking powder
A pinch of Salt
1 tsp Vanilla extract
70 gm Plain sugar
50 g Butter, melted
60 ml Milk
1 tsp Ovalette
Food colorings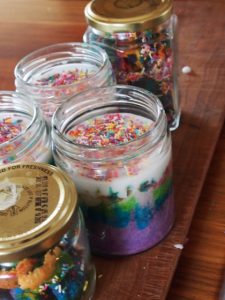 DIRECTIONS:
Note: This recipe makes a Swiss roll size of cake, so each batter can be divided into 3 colours and bake separately. Double up the recipe for a 6" layer cake.
Preheat oven to 180 ºC.
Using a stand mixer, whip the eggs, cake flour, baking powder, salt, sugar and vanilla extract in the bowl until very pale and fluffy.
Combine milk and melted butter.
Take a spoonful of batter, and mix with butter, and then add back into the mixer.
Beat for few more minutes.
Divide batter into portion, and tint with gel colouring.
Pour onto baking pan or Swiss roll sheet, greased and lined with baking paper.
Bake for 12-14 minutes.
Remove from oven and cut out circles using dessert ring of your choice.
Layer each cake with whipped cream, and garnish top with cherries.