Pan Seared Scallops with Homemade Chinese-inspired BBQ Sauce
by Stephan Zoisl

Chef Stephan Zoisl shares with us his Pan Seared Scallops with Homemade Chinese-inspired BBQ Sauce! Add a twist to your scallops today for a fancy meal at home!  
Cuisine : Fusion Course : Appetizer Skill Level : Novice
Prep : 10 mins Cook : 15 mins Ready in : 25 mins Serves : 6

---
INGREDIENTS:
12pcs Scallops
1tbsp Honey
1tbsp Hoisin Sauce
200g Ketchup
1tbsp Brown Sugar
1tbsp Plum Sauce
1tbsp Dark Soy Sauce
1tsp Worcestershire sauce
1 tbsp XO Sauce
1 tsp Fish Sauce
1 Red Onion, peeled & chopped
1 Garlic clove, peeled
Juice of 1 lemon
100ml Water
Mix Spice (Star anise, cinnamon, gloves, coriander seeds, cumin seeds, fennel seeds)
1tbsp Peanut Oil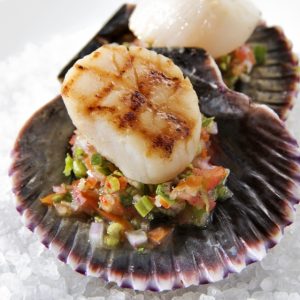 DIRECTIONS:
Add peanut oil to pressure cooker, heat up – add in garlic, onions, all the spices, roast for 1 minute. Add in brown sugar and honey – continue roasting for another minute.
Add in all other ingredients except the water and the scallops. Cook for 2-3 minute – add the water.
Close the lid, setup the pressure and cook for 10 minutes with pressure 1. Release the pressure and keep BBQ sauce aside.
Preheat a pan, pan-sear the scallops on high heat, 30-45seconds on each side. Serve with the BBQ sauce.