Have a break and have a devilishly good Golden Kit Kat Brownie shared by Chef Mimi Wahadi!
Cuisine : Baking Course : Dessert Skill Level : Novice
Prep : 15 mins Cook : 30 mins Ready in : 45 mins Serves : 10

---
INGREDIENTS:
95g Dark Chocolate Coverture
95g Unsalted Butter
90g Whole Eggs
200g Fine Sugar
¼ tsp Sea Salt
1 tsp Vanilla Essence
80g All Purpose Flour
1 bar Kit Kat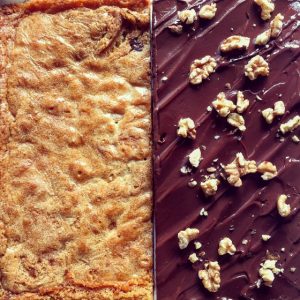 DIRECTIONS:
Preheat oven to 180°C.
Butter a 7 inch round cake pan.
In a bowl place the chocolate and butter on top of a double boil over simmering water until melted.
In a bowl,whisk eggs,sugar,salt and vanilla essence until well blended.
Whisk in chocolate butter mixture and add flour. Whisk until blended.
Pour into the prepared pan and spread evenly.
Place broken kitkat pieces on top of mixture.
Bake for approximately 25-30 mins.
Do not overbake!
Insert a tooth pick and it is done when the tooth pick comes out clean.