Savour this tasty Olive Fried Rice as you enjoy the health benefits of olives! It helps to boost your iron intake and is good for your heart.
Cuisine : Asian  Course : Main  Skill Level : Novice
Prep : 15 mins Cook : 20 mins Ready in : 35 mins  Serves : 1-2 Servings
---
INGREDIENTS             
½ tbsp Chopped Garlic
½ tbsp. Big Onions
½ bowl Black Olive
½ cup Capsicum
½ cup Shitake Mushroom
2 no Egg
¼ cup Crabmeat
¼ cup Minced Chicken
1 no Shredded Eggs
250gm Fried Rice *
Fried Rice

250gm Cooked Rice
2 tbsp Oil
¾ tbsp. Fish Sauce
½ tsp Sugar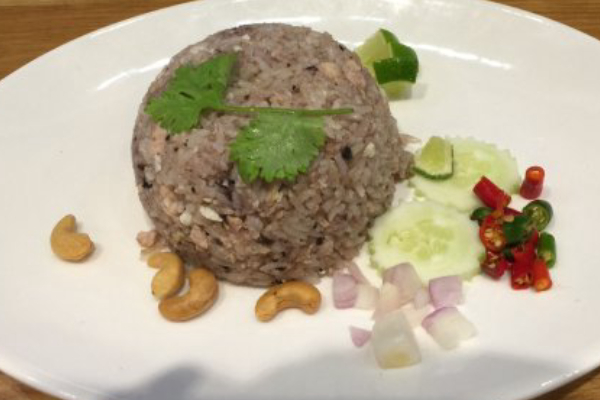 DIRECTIONS
To make the fried rice, heat the oil and cook the rice with fish sauce, sugar and ground pepper.
Heat oil and add in onions and garlic.
Stir in the pineapple cubes.
Add in the fried rice, meat and vegetables.
Add in the pineapple juice and fry under high fire for 2mins. Test the taste and adjust with fish sauce or soya sauce.
If serving with a pineapple shell, place rice inside and cover with foil.
Bake for 10mins at 160°C until hot and fragrant.
Serve with shredded eggs on top.