Who can resist cookies especially so when they taste so much like those from popular cookie shops? Now you can make them at home, hand-made from scratch – they are a breeze to make! These cookies are good for a couple of weeks in an air-tight container and you can even sandwich them with vanilla ice cream anytime you want a delicious treat!
Cuisine : Baking Course : Dessert Skill Level : Novice
Prep : 10 mins Cook : 20 mins Ready in : 30 mins Serves : 80pcs

---
INGREDIENTS:
200g Unsalted Butter
150g Castor Sugar
150g Light Brown Sugar
3 Eggs
390g Plain Flour
1¼ tsp Baking Soda
250g Mini Chocolate Chips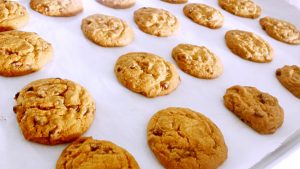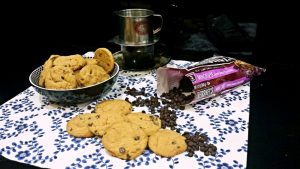 DIRECTIONS:
Cream the softened butter and sugar together until just combined and not fluffy.
Add in the eggs and mix well.
Add in the plain flour and baking soda.
Lastly, add in the chocolate chips and mix well.

Using the Nordic Ware Cookie Dropper, scoop onto the baking tray and space out evenly and bake it at fan mode oven at 180° for 20 min or until golden brown.