Try this elegant and low-fat party appetizer for this Christmas dinner! The perfect combination of cheese and apple with an extra crunch from the toasted walnut!
Cuisine : European Course : Appetizer Skill Level : Novice
Prep : 20 mins Cook : 10 mins Ready in : 30 mins Serves : 8

---
INGREDIENTS:
1 Granny smith apples, sliced ¼ inch thick
3 tbsp Cream Cheese (original)
2 tsp Fresh thyme
4 tbsp Shredded cheddar
4 pcs Toasted walnut (split into halves)
1 tsp Honey
Baguette, cut into ¼ nch thick slices (8 pcs)
2 tsp Olive oil
A pinch of salt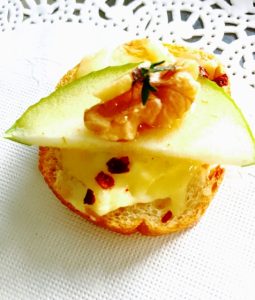 DIRECTIONS:
Pre-heat oven to 200 deg F.
Slice apples and set it aside in a bowl with water and a bit of salt. Set aside.
Slice baguette into ¼ inch thickness.
Arrange on a sheet tray.
Drizzle with a little olive oil and sprinkle salt.
Bake baguette till slightly crispy about 5 to 7 mins.
Carefully, remove the baked crostini and leave it to cool slightly.
In a pan, toast walnuts till golden brown. Remove and set aside.
Mix fresh thyme and cream cheese and pinch of salt.
Scoop a small spoonful of cream cheese and spread on each baguette.
Next, add shredded cheddar cheese.
Bake till cheese melts, careful not to burn them.
Carefully remove from oven.
Drain all water from the apples.
Immediately arrange sliced apple pressing it slightly on the warm cheese.
Garnish with toasted walnut, drizzle with honey and sprinkle a bit of fresh thyme.