Try this classic Mango Glutinuous Rice that is the perfect way to end a meal with Chef Julie Yee!
Cuisine : Asian Course : Dessert Skill Level : Novice
Prep : 5 mins Cook : 20 mins Ready in : 25 mins Serves : 1

---
INGREDIENTS:
1 no. Mango
1 cup Steamed sticky rice
2 tbsp Palm sugar/Fine sugar
Pinch of salt
½ cup Coconut milk
½ tbsp Deep friend mung bean (optional)
4 nos. Pandan leaf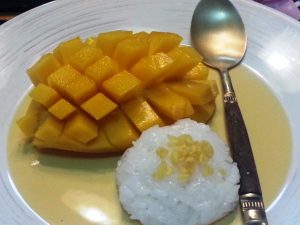 DIRECTIONS:
Heat coconut milk with pandan leaf.
Add sugar and salt, stir constantly.
Remove from heat and pour over hot steamed glutinous rice.
Let it sit for 20mins to allow the absorption.
Serve warm with chilled mango.
Pour a little of coconut cream and deep fried mung bean.