Moist cake, fresh mangoes and all stacked beautifully in a jar – what's not to love? Give this as a gift or party favours – they're bound to be a hit! 
Cuisine : Baking Course : Dessert Skill Level : Novice
Prep : 20 mins Cook : 20 mins Ready in : 40 mins Serves : 2

---
INGREDIENTS:
Classic Genoise
240g Whole eggs
120g Sugar
22g Unsalted butter, melted
5g Vanilla extract
135g Cake flour, sifted
Strawberries, as needed
Simple Syrup
100g Water
100g Sugar
For the Mango Mousse
90g Mango puree
120g Cream
35g Sugar
Fresh mango, as needed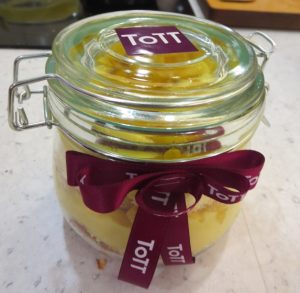 DIRECTIONS:
Prepare the workstation.
Scale the ingredients.
Whisk up eggs and sugar till ribbon stage.
Remove a small portion of the whipped up egg mixture and mix together with the melted butter and vanilla extract. Set aside.
Fold sifted cake flour into the egg mixture, do not over mix. Carefully fold in the reserved butter mixture.
Spread the batter onto a paper-lined sheet pan. Bake at 220ºC until light brown and springy to the touch.
Set aside for assembling.

For the Mango Mousse

Prepare the workstation.
Scale the ingredients.
Place mango puree and sugar in a pot and heat it high enough to melt the sugar. Set aside to cool it down.
Whip up cream to medium-stiff peaks.
Gently fold cream and mango puree mixture.

 

Assemble the Alphonso Mango Cake in Jar using the baked genoise, mango mousse and fresh mango to your liking.