Enjoy the flavours of Thailand with this sweet and spicy Thai Style Chicken Drumlet recipe for the ultimate appetizer! 
Cuisine : Asian Course : Appetizer Skill Level : Novice
Prep : 15 mins Cook : 35 mins Ready in : 50 mins Serves : 2-4

---
INGREDIENTS:
5 pds / 1.13 kg chicken wings
2-3 tbsp olive oil
1/2 tsp salt
1/2 tsp pepper
1/2 cup sweet chili sauce
1/4 cup rice vinegar
1/4 cup lite canned coconut milk
3 tbsp brown sugar
3 garlic cloves, pressed or finely minced
1 tbsp creamy peanut butter
1 tsp-sized knob of ginger, grated
1 lime, juiced
1/2 tbsp soy sauce
1/4 cup chopped peanuts
1/2 cup fresh cilantro
4 green onions, sliced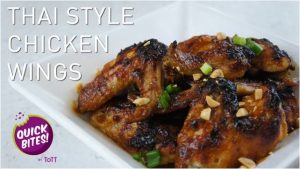 DIRECTIONS:
Season chicken wings with salt & pepper.
In a medium-sized bowl, combine chili sauce, vinegar, coconut milk, brown sugar, garlic, ginger, peanut butter, soy sauce and lemon juice. Mix well with a fork.
Heat oil in skillet over medium-high heat. Sear chicken wings, ~4-5 minutes on each side till brown. Remove and set aside.
Add in sauce mixture and bring to simmer, whisking constantly.
Add chicken wings back into skillet, tossing to coat evenly.
Bake in pre-heated oven at 190<C for 25 – 30 minutes, until fully cooked.
Remove from oven and garnish with chopped peanuts and green onions.
Enjoy!