With this scotch egg recipe you can enjoy a snack from the comfort of your own home – Served with onions, cheese and mustard, these are delicious!
Cuisine : European Course : Appetizer Skill Level : Novice
Prep : 15 mins Cook : 20 mins Ready in : 35 mins Serves : 6

---
INGREDIENTS:
150g Italian Pork Sausage
6 no. Medium Eggs
½ cup All-purpose Flour
2 no. Eggs, lightly beaten
1 cup Panko Breadcrumbs
Oil, for deep-frying
Salt & Pepper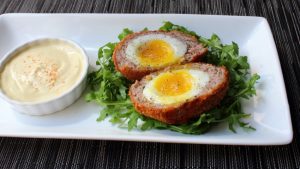 DIRECTIONS:
. Cook the eggs in boiling water for 6 minutes. Or By cooking eggs at EXACTLY the perfect temperature (ie, around 145F or 63C) for 40m, the plunge into cold bath and pop into freezer just being using.
Drain and peel. Season the sausage meat with salt and pepper, then divide this mixture into 6 balls.
Place the egg in the center and wrap in sausage. One at a time, roll the egg in the flour, dip in beaten egg, then roll in breadcrumbs.
Heat oil, about 3 inches deep, in a pan until hot enough that a breadcrumb sizzles when dropped in. Deep-fry the eggs for 8 to 10 minutes, turning once or twice to ensure even browning. Drain on paper towels.
Serve right away!