This Chinese New Year, bake these savoury-sweet Peanut Ball Cookies for your guests.
Cuisine : Baking Course : Dessert Skill Level : Novice
Prep : 15 mins Cook : 15 mins Ready in : 30 mins  Serves : 25 pieces
---
INGREDIENTS:
Group 1

100g Ground Peanut
80g Icing Sugar
120g Plain Flour
½ tbsp. Milk Powder
½ tsp Vanilla Powder
2/3 tsp Double Action Baking Powder

Group 2

1 ½ tbsp. Creamy Peanut Butter
80g Peanut Oil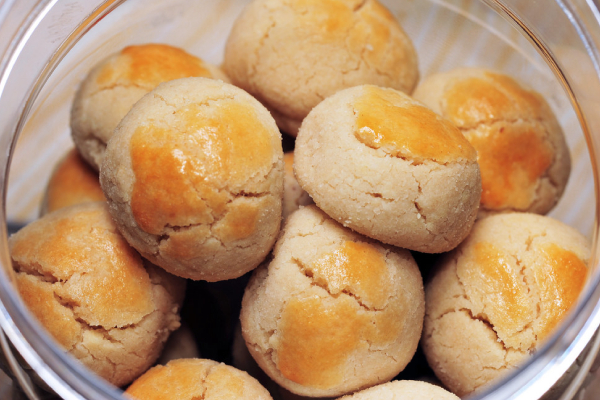 DIRECTIONS:
Mix Group 1 all the ingredients evenly.
Add in Group 2 & mix till a smooth paste is formed.
Mould it into balls of 5gm each. Place on a greased tray.
Egg wash & place ½ a peanut on top.
Bake at 170ºC for approx. 20 minutes.