A tasty and sweet Christmas treat perfect for any party! These delectable Oreo Truffles are made of Oreo cookies and Cream Cheese, dipped in sinful white chocolate and sprinkled with colourful candy cane for a beautiful finish.
Cuisine : Western Course : Dessert Skill Level : Novice
Prep : 100 mins Cook : 20 mins Ready in : 120 mins  Serves : 4 servings
---
INGREDIENTS             
• 450g Oreo cookies
• 225g Cream Cheese
• 1 tsp Peppermint Extract
• 220g Melting White Chocolate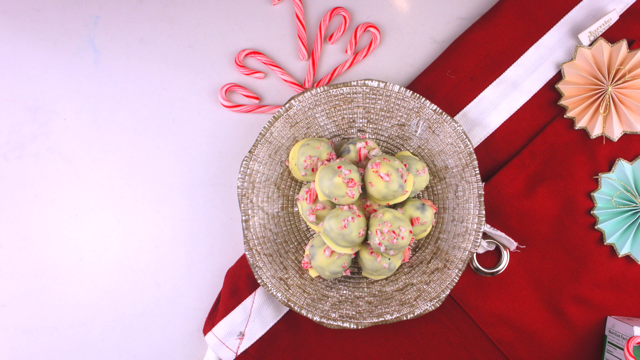 Directions:
In aMini Processor, crush whole Oreos into fine crumbs and add to medium bowl.
Add softened cream cheese and peppermint extract. Mix until well combined.
Refrigerate mixture until firm (approximately 1 hour)
Roll cookie mixture into balls (~1 inch)
Dip balls in melted white chocolate and place on parchment paper
Sprinkle with crushed candy canes
Set in refrigerator until firm (approximately 1 hour)
Serve!